The Announcement of the speakers & moderators names
19 April 2015
International Conference Sports for Women 2015 reveals its esteemed Panel who will speak on the theme Sports without Barriers
Olympian Dame Kelly Holmes, Wimbledon Champion Marion Bartoli, Guinness World Record Holder Muffy Davis & UAE Paralympic athlete Thuraya Hamad Al Zaabi amongst elite list of speakers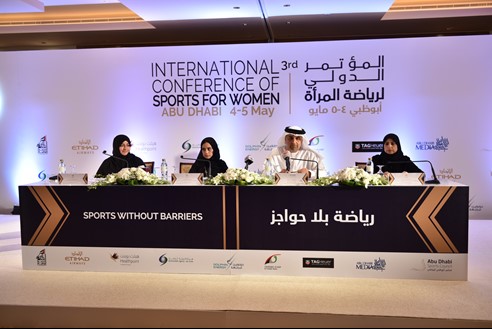 International Conference Sports for Women (ICSW) today announced the names of the speakers who will participate in five panel discussions which will take place over two days during the conference scheduled to take place at the Emirates Palace Hotel on the 4th and 5th of May.
The list of elite speakers was unveiled at a press conference held at the Emirates Palace today, which was attended by H.E Aref Al Awani, General Secretary Abu Dhabi Sports Council, H.E Amal Al Afifi Head of PR Committee ICSW and FBMA Board Member, Dr. Omniyat Al Hajiri Head of Academic Evaluation Committee ICSW and FBMA Board Member and Dr. Moza Al Shehhi Head of Scientific/Education Committee ICSW and FBMA Board Member.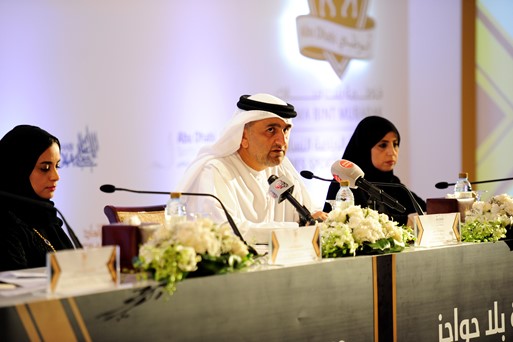 In its third edition this year, the theme of the conference is "Sports without Barriers", which is closely aligned with the strategic vision of the patron of ICSW and FMBA, HH Shaikha Fatima Bint Mubarak (may God protect her), Chairwoman of the General Women's Union, Supreme Chairwoman of the Family Development Foundation, Chairwoman of the Supreme Council for Motherhood and Childhood and Mother of the Nation, that there should be no barriers in the way of women's empowerment in society and specifically in their participation in sports.
The panel for this year's conference boasts of high achieving sportswomen from all over the world. Their stories of overcoming every conceivable barrier – be it physical disability, gender, social or personal issues – will serve to inspire women in the UAE and the region to step forward and participate in sports.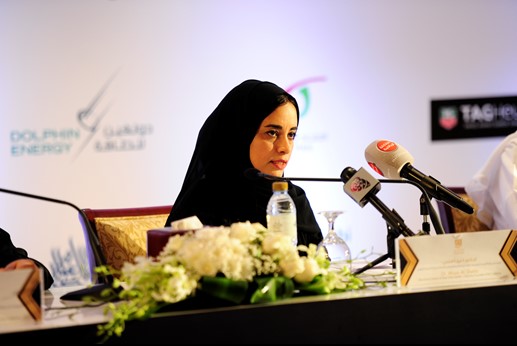 Double gold-medalist from the Athens Olympics, British athlete Dame Kelly Holmes, 2014 Wimbledon Champion Marion Bartoli, winner of 7 medals at the Paralympics, World Champion and Guinness World Record American athlete Muffy Davis and UAE Paralympics athlete Thuraya Hamad Al Zaabi are amongst the elite list of speakers who will be participating in ICSW 2015.
The other speakers who will be present are Jordanian journalist Ola Alfares (moderator), FBMA Board Member Lt. Col. Dr Mouza Al Shehhi, IOC Member Dato' Beng Choo LOW from Malaysia, IOC Member and International Triathlon Union President Marisol Casado from Spain, Sports anchor Abu Dhabi sports channels, Osama Al Amiri (moderator), Jordanian Paralympic Athlete Suhail Al Nashash, Brazilian footballer Marta Vieira Da Silva,Relations Director and Head of International Relations of the Brazilian Olympic Committee Agemar Sanctos,Board Member of the National Olympic Committee of Finland Tuuli Merikoski, Egyptian athlete and winner of the FDF Award 2014 Rania El Wani, Board Member of the UAE Olympic Committee and Board Member of FBMA Dr. Mai Ahmed Sultan Al Jaber, Lebanese Sports Presenter Areej Saleem (moderator), Tansin Benn from the International Association of PE & Sports for Girls & Women UK, UAE Football Women Federation and FDF Award Winner 2014 Amal Bu Shalak and  UAE athlete Amna Al Haddad.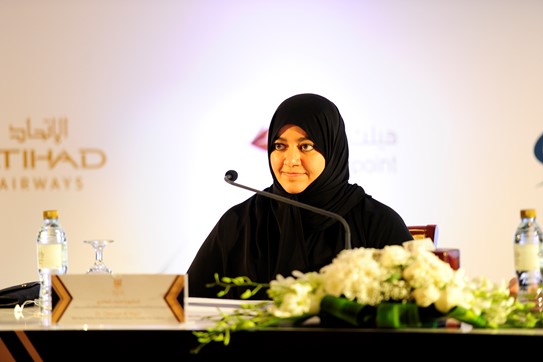 ICSW under the aegis of Fatima Bint Mubarak Ladies Sports Academy (FBMA), is a first of its kind initiative in the Middle East that addresses the subject of women in sports.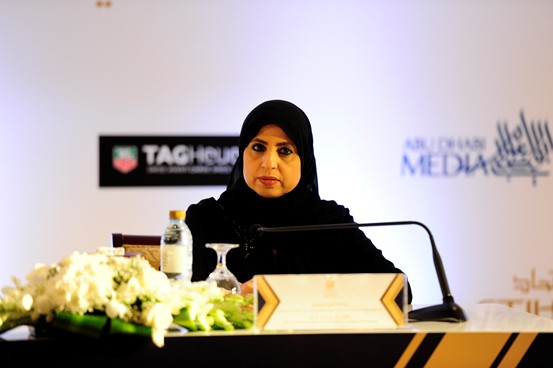 ICSW is forever grateful for the efforts and guidance of Shaikha Fatima Bint Hazza Bin Zayed Al Nahyan, Chairwoman of Fatima Bint Mubarak Ladies Sports Academy and Chairwoman of Abu Dhabi Ladies Club.