The Pursuit of Wellness in a Wearable-Tech World
Under the generous patronage of Her Highness Sheikha Fatima Bint Mubarak Chairwoman of the General Women's Union (GWU), Supreme Chairwoman of the Family Development Foundation (FDF) and President of the Supreme Council for Motherhood and Childhood "Mother of the Nation"
In collaboration between The Fatima Bint Mubarak Ladies Sports Academy and The National we announces the "The Pursuit of Wellness in a Wearable-Tech World "Webinar. On Monday, January 25, 2021 at 05:00 PM through ZOOM.
About the Topic:
With ubiquitous Apple Watches, Fitbits and an emerging trend in telehealth, how can we take advantage of what technology has to offer to optimise our health and well-being? Where can these solutions take us and what's coming next? And should we be looking to Big Tech and start-ups for our health answers, or straight to the doctor's office?  

MODERATOR: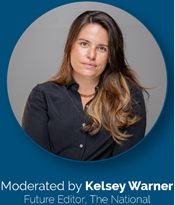 Kelsey Warner Future Editor, The National. Kelsey oversees coverage at The National of what innovations and trends are reshaping society. She also co-hosts the weekly Business Extra podcast. Her reporting has appeared in the Christian Science Monitor, The New York Times, Forbes Middle East and MSN. Prior to becoming a journalist, Kelsey led a Boston-based non-profit that supplied emergency funding to families facing homelessness. She holds a master's degree from Columbia Journalism School.
PANELISTS:

 Dr Madhu Sasidhar Chief Medical Officer, Cleveland Clinic Abu Dhabi as Chief Medical Officer, Dr Sasidhar is responsible for inpatient, outpatient and surgical operations at Abu Dhabi's premier multi-speciality hospital. Prior to joining CCAD, he was a section head at the Respiratory and Critical Care Institute, Cleveland Clinic, Ohio.
Dr Panco Georgiev ,Panco leads McKinsey's Healthcare Systems & Services Practice in EEMA (Eastern Europe, the Middle East, and Africa). He serves clients across the entire healthcare sector, with a focus on advising authorities, payers, and providers in emerging markets on strategic, organizational, and operational topics.
Dr Patrick Noack is Executive Director: Future, Foresight and Imagination, at the Dubai Future Foundation. Prior to this role he was senior policy adviser at the Royal Society where he led on emerging technologies and foresight. He was responsible for a landmark report on neural interface technologies – iHuman – which aimed at exploring the forthcoming scientific opportunities and the social and policy implications. In the years prior, he has developed scenarios and foresight on complex issues with United Nations specialised agencies and in the private sector. Patrick holds a master's in social policy from the LSE and a doctorate in zoology from the University of Aberdeen.
Ahmed Alqubaisi Founder & CEO, Krews an Abu Dhabi start-up seeking to streamline social events and activities in line with the UAE's vision to facilitate the increase of physical and outdoor activities. Ahmed graduated from Manchester University with a degree in chemical engineering and shortly after, began his career at Mubadala where he worked in private equity. Ahmed's drive for his company's mission and what it can achieve has led him to pursue Krews full time.
 To view the panel discussion please click here
REGISTRATION:
the registration is closed