Treat Yourself - Changing the Way we Nurture our Body and Soul Seminar



Treat Yourself - Changing the Way we Nurture our Body and Soul - Seminar
The Fatima Bint Mubarak Ladies Sports Academy (FBMA) in collaboration with New York University - Abu Dhabi announce the "Treat Yourself - Changing the Way we Nurture our Body and Soul Seminar" on Tuesday 23rd of June 2020 at 07:00pm through @ADFBMA Instagram Live.
With:Natascha Enriquez: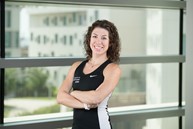 Natascha Enriquez has over 15 years' experience in the Fitness and Wellness industry. Aside from extensive training and experience in the areas of Rehab Training, Personal Training, Group Fitness (including Yoga and Pilates) and Corporate Wellness, she is also a certified ICF Life Coach (Brain-based Coaching). She is currently pursuing her MSc in Sport and Exercise Science and Medicine and has successfully established a Research Lab in this area at NYUAD.
All these spectrums of Wellness and Fitness come together in her seminars and talks, allowing the audience to consider the holistic elements of healthy living. Natascha's passion for educating her audience on a new approach, a new understanding of nurturing the body and mind is infectious, and truly changes the participants' relationship to Fitness, Wellness and Wellbeing.
What you will Learn:
Critically analyses our bias and beliefs
Develop self-love and a true appreciation of body and soul
Treating your body and soul the right way
Location: @ADFBMA Instagram Live.
Eligibility: Open to Everyone  
Language: English