30 May 2022
After a full day of non-stop and high-speed chess action, the 4th FBMA Blitz Chess Tournament successfully crowns its champions
After a full day of non-stop and high-speed chess action, the 4th FBMA Blitz Chess Tournament successfully crowns its champions
- Maria Gevorgian was crowned the 4th FBMA Blitz Chess tournament winner.
- 4 Years "Young" Participates and Impresses
May 30, 2022 Sunday - United Arab Emirates, Abu Dhabi
The 4th FBMA Blitz Chess Tournament was concluded with Maria Gevorgyan of Armenia taking the first place crown. The tournament attracted over 100 registered players, from 17 diverse nationalities, all of whom competed over nine rounds for the AED 33,000 total prize fund.
The tournament was under the patronage Her Highness Sheikha Fatima bint Mubarak, President of both the General Women's Union and Supreme Council for Motherhood and Childhood, and Chairwoman of Family Development Foundation "Mother of the Nation", and H.H Shaikha Fatima bint Hazza Bin Zayed Al Nahyan, Chairwoman of FBMA, President of the Abu Dhabi Ladies Club and Al Ain Ladies Club. FBMA would like to also thank their partners Abu Dhabi Sports Council and Abu Dhabi's Chess and Mind Games Club for their outstanding addition to the tournament and we are grateful to all of the participants for making this event such a success.
H.E. Naema Al Mansouri and H.E. Amal Al-Afifi were both present at the podium to crown the champions, FBMA Board Members, H.E. Aref Al Khouri, Vice Chairman of the Board of Directors of the Abu Dhabi Chess and Mind Games Club, and Mr. Suhail Al-Awadi, head of technical staff in Abu Dhabi Chess and Mind Games Club, Mr. Khaled Mubarak Al Shamsi, Board Member of Abu Dhabi Chess and Mind Games Club and Chairman of the Marketing and Corporate Communications Committee, as well Ms. Fadia Al Nuaimi, Director of Government Relations and Private Entities at Burjeel Hospital.
Initially, Maria Gevorgian showed up with great style in what seemed to be an unstoppable streak which lead to her being crowned champion. She competed against the distinguished player Angelia Stojanovic of Serbia who ranked second overall. Mehri Gildeva of Kyrgyzstan, who currently holds the title of International Master (WGM) finished in third place.
In turn, the young Kosha Cheksi far exceeded what was expected of her age and was awarded the "youngest player award" participating at 4 years of age.
6 additional awards were distributed for the best Emirati players in the tournament, a list that included world-ranked names, an indicator of high technical level and strong attendance. People of determination graced us with their presence and highly appreciated participation. The tournament also saw the success of the referees' committee system led by the international referee "Saeed Ahmed Al Khoury" of the United Arab Emirates and "Bogdan Garbia" of Romania.
Her Excellency Naema Al-Mansouri, FBMA Board Member, expressed her satisfaction with the organization's overall work flow and consistent efforts in organizing local and international events. She emphasized that all the participants had potential, which made the event exciting for all the fans. In turn, H.H praised the Abu Dhabi Sports Council, the Abu Dhabi Women's Club, the Abu Dhabi Chess and Culture Club, Burjeel Hospital, and media coverage provided by Abu Dhabi Sports Channels and other sponsors for their efforts and support.
"The players showcased a high caliber of talent and potential during the tournament. Equally as impressive was the participation of the youngest players (4 and 5 years old), in addition to the attractive number of international participants. Firstly, and most importantly we dedicated a segment for people of determination in the competition and were keen that they took a strong part on this day.
We thank everyone for their efforts as this tournament complements all the sports programs and plans developed by the Academy's administration to spread health culture and sensitize the community to follow a healthy lifestyle. The number of participants increased by almost 20% from last year, which pushes us to continue progressing and overcoming whatever barriers and challenges.
Her Excellency Amal Al-Afifi, FBMA Board Member, expressed the following:
"Many sports, cultural and social events that the Fatima Bint Mubarak Women's Sports Academy is keen to organize in the capital Abu Dhabi are commensurate with the interests of women of all ages and nationalities in order to encourage sport and make it a daily way of life."
She continued:
"The 4th FBMA Blitz Chess Tournament is a series of successful events, and there will be many more to follow in the foreseeable future. Everyone interested should stay tuned to the news and developments of the Academy through its official platforms."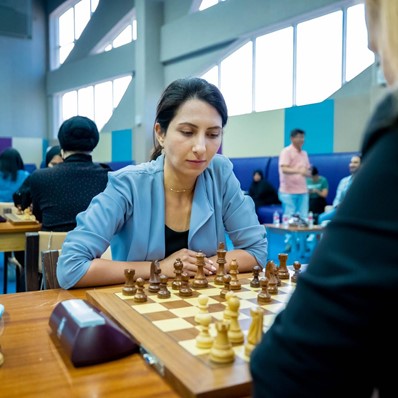 -END-