Beth Allen wins Fatima bint Mubarak Ladies Open
6 November 2016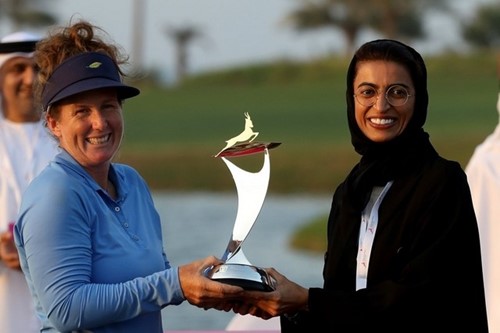 A proud Beth Allen was thrilled by her achievement of becoming the first winner of the Fatima bint Mubarak Ladies Open yesterday.
"It means so much to me," said the American after firing a course record-equalling eight-under 64 to clinch the Ladies European Tour (LET) event by three strokes from England's Georgia Hall at Saadiyat Beach Golf Club.
"It's so special, no one can take this away from me and I am the only person who can ever say that that I won the first ladies event here. I am really excited to come back next year."
Allen, 34, played the most consistent golf over the four days.
Scores of 66, 68 and 69 allowed her to stay in the top three on the opening three days before rounding off in a flourish to card 267 and be crowned champion.
"I have been playing great golf all year so I came in this week really confident," added Allen.
"Today I just knew I had to make a lot of birdies because everyone in the last group were so good.
"Georgia already had a 64 this week and I knew it could be done, so I knew had to go low. I knew I had a lot of birdies and a bogey but in the end an eight-under was better than I thought, so I was really happy.
"I think the more you play the golf course the more comfortable you get. I am playing the Indian Open next week so I am excited, because obviously I have been playing well and wouldn't mind another trophy."
Her victory in the US$550,000 (Dh2 million) event and third on the LET Tour moved her on top of the Order of Merit standings ahead of Shanshan Feng.
"I really want to win the order of merit and I certainly think today helped," said Allen.
"I love this course. I immediately thought, 'wow', I think I can shoot some low numbers around here."
Melissa Reid of England and Australian Sarah Kemp shared third on 271 while the trio – Angel Yin (USA), Jessica Karlsson (Sweden) and Vikki Liang (Finland) – shared fifth on 275.
Hall, 20, the overnight leader went head-to-head with Allen before dropped shots at the 14th and 16th ended her challenge.
"I played really well on the front nine and got to five-under but one of my bogeys was a bad mistake," she said.
"The other one wasn't bad, I was trying to carry the bunker and I hit my drive so low that it plugged into it when it came down, so that was another bogey. Without them, I probably could have caught Beth but I had no idea what score she was on."
Reid too was in contention with three birdies on the front nine. She recovered from a bogey on the back nine with three birdies before a second bogey on the penultimate hole added to her frustration.
"I didn't get any breaks today at all," said Reid. "I felt I hit a lot of good putts that didn't go in but at the start of the week, I didn't feel 100 per cent comfortable with my swing.
"I probably would have taken this but when you get within touching distance it's a tough one to take. Fair play to Beth. Shooting eight-under is an incredible score and she's just on fire at the minute."
Meanwhile, Icelandic rookie Olafia Kristinsdottir, who led the field on the first two days with rounds of 65 and 66, wilted under pressure with scores of 74 and 76 to finish 26th.
"It's a very valuable experience," she said. "I've never been in this position before so next time I'll do it better."
Kristinsdottir added she hoped to be back in Dubai next month at the Omega Dubai Ladies Masters, which starts on December 7.
"I'm hoping that India won't be my last tournament [the Indian Open, which starts on Friday] and I'm really crossing my fingers for an invitation to Dubai."
Source: The National