East Sharjah & Fujairah Maintain Crowned Champion for U-14 and U16 Girls Leagues
27 April 2017
East Sharjah & Fujairah Maintain Crowned Champion for U-14 and U16 Girls Leagues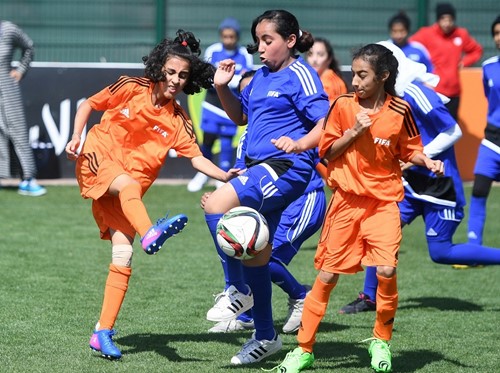 The Conclusion of Round Five
Dubai/Thursday, April 27, 2017: The matches of Round Five of U-14 Girls League will be concluded tomorrow at UAE FA pitches, where Training Centre of Sharjah, Ajman and Umm Al Quwain will face Private School Training Centre, and East Sharjah & Fujairah Training Centre will play RAK Training Centre, while Abu Dhabi Club will meet Dubai Training Centre.
East Sharjah and Fujairah maintained the lead with 12 points, followed by Abu Dhabi Club and Dubai Training Centre in the runners-up with 9 points for each.
In the competitions format, if two or more teams are equal in points, the ranking will be determined via the matches between the teams concerned. If tie still unbreakable, goal difference shall apply.
The final round of U-16 Girls League will witness the games: RAK versus Sharjah, Ajman Umm Al Quwain; and Abu Dhabi club versus Dubai. 
East Sharjah & Fujairah achieved is the champion with 12 points, while the contest will be fierce for the runners-up place between Abu Dhabi Club and Dubai Centre with 6 points of each. 
Amal Bu Shallakh, UAE FA Board Member and Member of AFC Women Committee, expressed her satisfaction with the technical outcome of the sports season for women age groups. She pointed out, that the number of female players has increased significantly due to the cooperation of Ministry of Education, and the AFC was pleased with the status of women football its last visit to UAE.
She stressed that the increase in the number of female players at this stage is so important for widening football base and enriching 1st Women National Team in the future. 
She concluded "we look forward to take advantage from mistakes and follow-up FIFA program "live your goals" in order to develop women football in UAE.