Eleven Emiratis climb Oman's tallest mountain in celebration of 45th UAE National Day
27 November 2016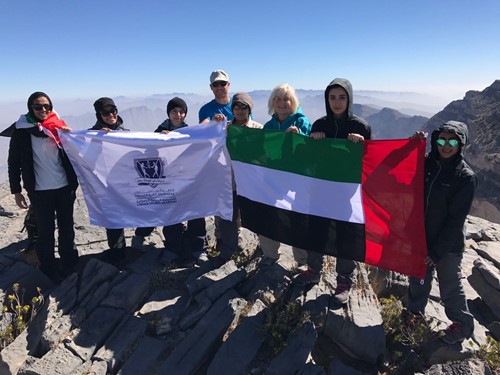 FEMALE EMIRATI STUDENTS REACH NEW HEIGHTS
On the morning of November 26th, eleven female Emirati students were preparing for their next big adventure. They set out to hike up to the top of Jebel Shams, Oman's tallest mountain. Their goal? To celebrate the 45th UAE National Day, while breaking yet another barrier.
The "brave eleven" were driven by their passion for staying active and their love of mountaineering, when they decided to take on the challenge set by the Fatima Bint Mubarak Ladies Sports Academy (FBMA) and the Higher Colleges of Technology - Abu Dhabi Women's College (ADWC). Having recently signed a Memorandum of Understanding to promote physical activity and sportsmanship among the ADWC community, the two entities invited Higher Colleges of Technology (HCT) students across different disciplines to participate in a hiking expedition.
But this was more than just an open invitation; a lot of effort had to be invested on the students' part to make it to the final team that would get to carry the UAE flag to the top of the Al Hajar mountain range. In addition to the rigid training that started two months before the hike and the multiple physical condition tests, students had to have achieved an overall minimum GPA of 3.0 in order to be eligible for participation.
"Initiatives like this exemplify the core values that the Academy was built on and maintains in its day-to-day endeavors", highlighted H.H. Sheikha Fatima Bint Hazza Bin Zayed Al Nahyan, Chairwoman of the Board of Directors of FBMA, and Chairwoman of the Abu Dhabi Ladies Club. "These values, which were set by H.H. Sheikha Fatima Bint Mubarak, empower women by encouraging them to be active and ambitious and FBMA has made it its mission to instill them into the Emirati female mindset", H.H. Sheikha Fatima added.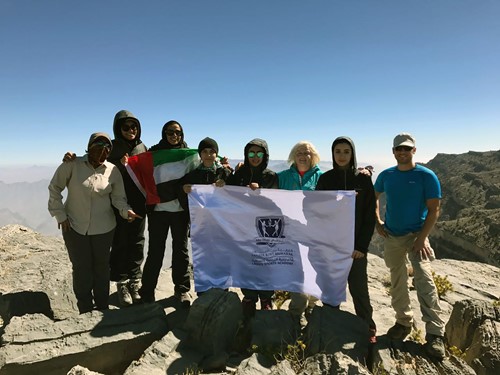 "Our goal at HCT is to encourage students to lead healthier, more active lifestyles, by providing them with various fitness opportunities throughout their college life", said Dr. Addel Al Ameri, ADWC Director. "ADWC is thus very pleased to collaborate closely with the Fatima Bint Mubarak Ladies Sports Academy, to promote sports, physical activity and a healthy lifestyle among its students", he added.
Under the patronage of H.H. Sheikha Fatima Bint Mubarak, Mother of the Nation, these hiking expeditions are steadily becoming a tradition for FBMA and ADWC, creating a legacy of achievements for young Emiratis to draw motivation from. As a result of this collaboration, the UAE flag has traveled to the top of Mount Kilimanjaro, Tanzania in 2013 and Mount Fuji, Japan in 2015.  
"I hope that our efforts as students inspire the younger generation to work equally hard and that we are setting a positive example. The feeling of pride that comes with the honor of carrying our country's flag to the top of the world is priceless, especially when it coincides with the important occasion of UAE National Day, which celebrates the pioneering spirit of our Nation", said Salma Al Balooshi, ADWC student.
For more information on the initiative, please visit: 
www.fbma.ae
 or call 02-2057333.