First Fatima Bint Mubarak Ladies Open hailed 'huge success'
6 November 2016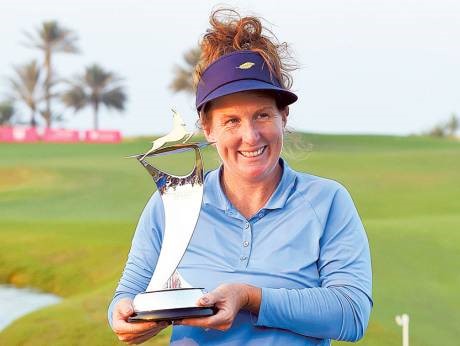 Organisers of the first women's professional golf tournament in Abu Dhabi have lavished praise on the participants for making the event "a huge success".
They feel that the Fatima Bint Mubarak Ladies Open, which finished at Saadiyat Beach Golf Club on Saturday, succeeded in inspiring UAE women of all ages to take up golf.
The Fatima Bint Mubarak Academy and Abu Dhabi Sports Council hosted an array of clinics with leading Ladies' European Tour (LET) stars throughout the week at the tournament, which was won by Beth Allen with a score of 21-under par.
Dr Mai Al Jaber, board member of the Fatima Bint Mubarak Ladies Academy, said: "Congratulations to all the lady golfers. It has been wonderful to witness their power and grace this week and they have provided us with four days of amazing action.
"I have no doubt that their participation will inspire women of all ages to become involved in this sport."
"As members of the Abu Dhabi sporting community, our vision is to inspire the next generation of UAE sports stars by offering them the platform to succeed," he added. "We look forward to continuing the tournament's legacy and further growing the game here in Abu Dhabi."
Aref Al Awani, General Secretary at Abu Dhabi Sports Council (ADSC), owner of the event, said: "We would like to thank Her Highness Shaikha Fatima Bint Mubarak Al Nahyan — Mother of the Nation, Wife of the late President Shaikh Zayed Bin Sultan Al Nahyan, Chairwoman of the General Women's Union, Supreme Chairperson of the Family Development Foundation and President of the Supreme Council for Motherhood and Childhood, for her continued efforts in ensuring ladies excel in all sports and positioning Abu Dhabi as a global sports destination for them.
"We saw increased numbers of visitors over the past four days, which we consider to be a huge success in encouraging ladies and young people to play this game. This tournament will be added to the global agenda as one of the most important stages for the players to compete in.
"I would like to congratulate Beth Allen for her four amazing days and becoming the first-ever winner."
Over the week, more than just golf was enjoyed at Saadiyat Beach Golf Club. The Tournament Village offered food and drink, ELDOA exercise classes, ITU World Triathlon bikes and even celebrity appearances from top Ladies' European Tour (LET) golfers, including the Guest of Honour, Annika Sorenstam.
Source: Gulf News