Ladies Open a 'magnificent learning opportunity for Emirati golfers'
3 November 2016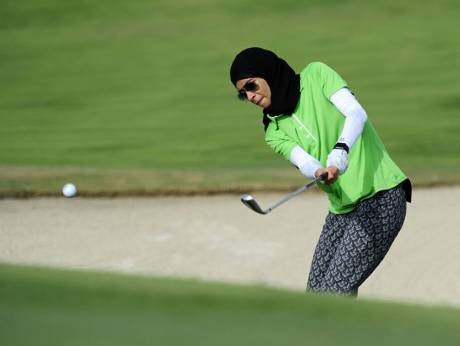 One of the over-arching aims of the organisers of top-class sporting events in Abu Dhabi is to leave a lasting legacy by engaging the community.
This week's inaugural Fatima Bint Mubarak Ladies Open (FBMLO) at Saadiyat Beach Golf Club is no different, as it has strenuously sought to inspire Emiratis and UAE residents alike to take up golf through clinics with leading players and other schemes.
One such initiative has been a weekly coaching programme run by the organisers of the FBLMO, the Fatima Bint Mubarak Ladies' Academy, entitled 'Golf for Ladies'.
Professional coaches have helped women of all abilities hone their golfing skills and some participants have even been enlisted as volunteers at the first Ladies' European Tour (LET) event in the capital to enhance their experience of the sport.
One participant, 26-year-old Emirati Fatima Al Ali, told Gulf News: "The training that FBMA generously held for female golf enthusiasts not only gave me and many more Emirati women the opportunity to get on the course and start playing golf, but moreover it allowed me to really advance my technique. At the start of the sessions, I felt nervous and had to invest a lot of effort into adapting to this new sport.
"But, as the sessions continued and my enthusiasm kept growing, under the supervision of our highly qualified coaches, I was able to develop a sense of perseverance and accuracy that were key to advancing my game."
What does it mean to her to have such a prestigious golf event being held in her home city?
"As a big fan of golf and — recently — an amateur golfer, for me the hosting of such a prominent organisation of the European Ladies' Tour in my country's capital city is really a dream come true, as it constitutes a magnificent learning opportunity for female Emirati golfers," replied Ali, who is a Human Resources Officer with the Fatima Bint Mubarak Ladies' Academy and who cites the world number one Lydia Ko as one of her inspirations. "Moreover, the chance to be a volunteer and an amateur competing at the Pro Am preceding the world-renowned tournament was a unique occasion and an honour for me."
Speaking about her goals in the sport and whether she thinks the UAE can produce a woman golfer of renown, she said: "I look forward to becoming a better golf player and hopefully soon being able to represent my country in international golf competitions. Personally, I am very confident that the UAE can produce internationally renowned players; one only needs to look at the magnificent golf courses that our emirate is becoming famous for — five in Abu Dhabi and one in Al Ain — and, of course, the weather, which allows for a long golf season here, to draw the same conclusion."
Source: Gulf News