UAE becomes first Arab member in International Skating Union
15 May 2016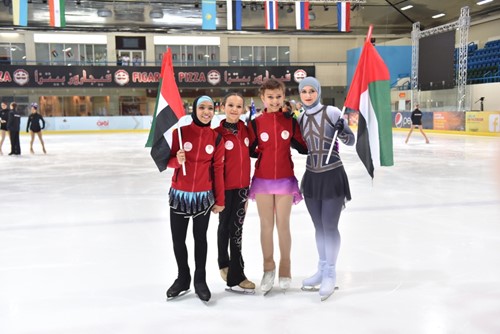 The UAE, represented by the UAE Ice Sports Federation, has officially become a member of the International Skating Union (ISU), the international governing body for competitive ice skating disciplines, including figure skating, synchronised skating, speed skating, and short track speed skating.

It was founded in Scheveningen, Netherlands, in 1892, making it one of the oldest international sport federations. The ISU was formed to establish standardised international rules and regulations for the skating disciplines it governs, and to organise international competitions in these disciplines. It is now based in Lausanne, Switzerland.

The full-fledged membership followed the successful organisation of the Fatima Bint Mubarak Academy Trophy for Figure Skating in January 2016.

The UAE has become the first Arab country to gain full membership of the ISU which will give it the voting right on major ISU resolutions.

Commenting on the landmark achievement on behalf of the Academy, Fatima Al Ali congratulated the leadership and sports community and offered warm congratulations to Sheikha Fatima Bint Mubarak, Chairwoman of the General Women's Union, Supreme Chairwoman of the Family Development Foundation and President of the Supreme Council for Motherhood and Childhood, and Sheikha Fatima Bint Hazza Bin Zayed Al Nahyan, Chairwoman of Fatima Bint Mubarak Ladies Sports Academy, and Chairwoman of Abu Dhabi Ladies Club.

She attributed this success to the special and constant care and support given to women sports by Sheikha Fatima.

She said the academy would go ahead with its plan to expand the base of skating sports for women so as to participate in local, regional and international
competitions.

The membership, she added, will allow the UAE to achieve more gains for Emirati women sports.

The academy, in collaboration with Abu Dhabi Sports Council and the Ice Sports Federation, organised the competition for two consecutive editions.