Johnson bowls perfect game to guide United States to World Bowling Women's Championship team title
15 December 2015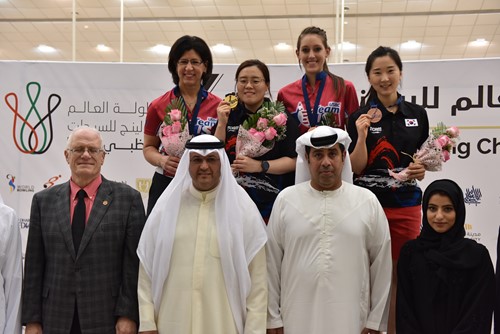 The United States were crowned team-of-five competition winners on the penultimate day of the World Bowling Women's Championships at the Khalifa International Bowling Center in Abu Dhabi.
The event resumed with the second block of qualification and the overnight leaders Germany struggled during the early stages to leave their hopes of making the semi-final phase in doubt.
By contrast, South Korea produced a stunning performance to rise from fifth position at the start of the day to the highest scoring team in qualifying, having finished on a total of 6,738.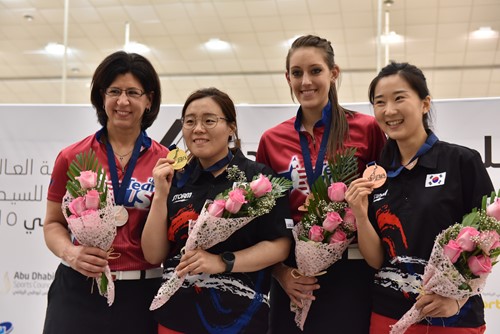 The US and Singapore booked their places in the semi-finals with scores of 6,670 and 6,564 respectively, while Germany eventually held off Sweden's challenge to progress, after ending on a total of 6,506.
However, Germany were unable to raise their standards for their last four encounter with South Korea as they fell to an 1195-1087 defeat, with a stunning individual score of 289 from Dawun Jung helping her team progress to the gold medal match.
Korea would face the challenge of the American team, which contained doubles gold medallists Danielle McEwan and Kelly Kulick, after they overcame Singapore 1105-1026 in their semi-final.
Liz Johnson, a two-time Pan American Games gold medallist, proved to be the star of the final as the 41-year-old bowled a perfect game to score 300 points for her team. It helped the American team, which also included Shannon O'Keefe and Shannon Pluhowsky, to end on a total of 1168 while South Korea could only manage 1060. Singapore's trios silver medallist Shayna Ng, who also reached the semi-finals of the singles, doubles and team event, was awarded the all-events gold medal following her superb scores during the week.
The Championships are set to conclude tomorrow with the Masters event, followed by a victory banquet.
Source: insidethegames.biz