16 June 2016
Yas stages women's fitness event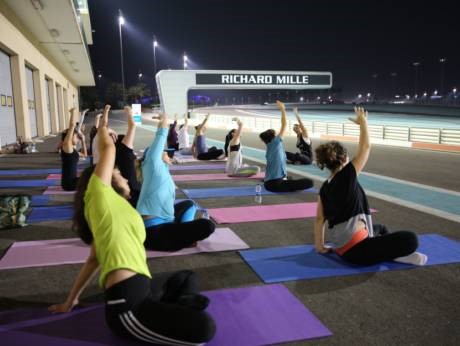 More than 250 women enjoyed a special Ramadan evening of fitness, health and well-being on Wednesday evening at #theADmovement – a free community event held at GoYAS by Daman's Activelife at Yas Marina Circuit in Abu Dhabi.
The event, staged in collaboration with the Fatima Bint Mubarak Ladies' Sports Academy, marked the #theADmovement's second event in Abu Dhabi aimed at empowering women towards better health and more physical activity.
It featured spin-inspired cycling led by Waheeda Al Hadhrami; a battle-rope boot camp held by Sara Al Sayegh; a motivational fitness talk from Muneera Al Hubail; healthy cooking demonstrations by Lana's Partiperfect; hot yoga led by Salma El-Ansary/the Hot House; and dance fusion by Nike+TC.
The evening also featured other activities and services offered by #EndSmallTalk, Chiropractic Specialty Centers UAE, Junior Gym, and ActiveLife by Daman, as well as healthy food and active wear pop-up shops to bring everyone together.
Founded by the Emirati health coach student and blogger, Sarah Al Nowais, her compatriot and CrossFit trainer and social-media influencer, Abeer Amiri, and American nutrition enthusiast and clean eating educator, Kristin Anderson, the goal of #theADmovement is to create a healthy living movement in Abu Dhabi for women to motivate and support one another towards leading healthier lifestyles.
Health-related themes
Their events are focused on different health-related themes and the trio seek to use #theADmovement as a way to give participants information on how they can make positive lifestyle changes for themselves and their families.
"We envision #theADmovement as a way for Abu Dhabi's women to connect with and to learn from each other. We especially want to reach women in our age demographic who may be seeking to improve elements of their health and lifestyle, but don't necessarily know how to do so or where to start," explained Anderson.
The initial launch of #theADmovement was held in March under the theme of "Journey to Wellness". The success of their first event generated significant interest and momentum from women in the community, they said, which led the trio to plan their next event on a bigger scale for a larger reach and impact.
The movement's collaboration with GoYAS by Daman's Activelife and the Fatima Bin Mubarak Ladies Sports Academy for their second event was a natural fit as they all share a common goal of promoting healthy living among women in Abu Dhabi.
In the charitable spirit of Ramadan and inspired by the venue of the event — the Racing School Garages at Yas Marina Circuit, #theADmovement invited attendees on Wednesday to bring non-monetary donations of clothing, household items, toiletries, children's toys and other items in good condition to contribute towards a free charity garage sale.
The three women are already hard at work planning #theADmovement's next event, which is scheduled for the autumn and which will feature a mother-and-child theme.
To keep up to date with #theADmovement's events, you can follow them on Instagram @theADmovement.
Source: Gulf News
http://gulfnews.com/sport/uae/more-uae/yas-marina-circuit-stages-women-s-ramadan-fitness-event-1.1847265