ADSC LADIES WINS THE VOLLEYBALL TOURNAMENT TITLE
23 June 2016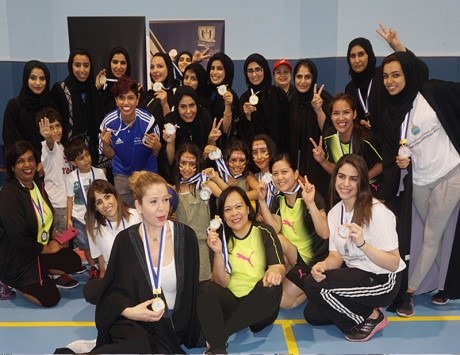 With great success, the competitions of the Ramadan Volleyball Championship which was organized by Fatima Bint Mubarak Ladies Sports Academy as a part of Abu Dhabi Sports Festival were concluded. The tournament witnessed the participation of 8 volleyball teams representing different bodies and organizations of Abu Dhabi government and took place at the play fields of the Family development establishment's indoor sporting hall in Abu Dhabi.
The Abu Dhabi Sports Council women's volleyball team succeeded in seizing the championship's title after winning the final match against the National petroleum construction team, to put a fitting conclusion to the outstanding level of performance it showed during the groups league stage through winning two matches and qualifying for the semi-finals to play a match against ADCO team where the ADSC team won two – nil to secure its participation in the final match and eventually get crowned as the champion.
The honoring ceremony started at the Finale of the championship and ADSC team's players was awarded golden medals while the NPC team's players were granted silver medals for landing the second place.
In the third – fourth place match, ADCO women's volleyball team triumphed over FBMA team by two points to zero, landing the third place while the FBMA got in the fourth place.
Houreya Al-Dhahiri , captain of the ADSC women's volleyball team expressed her delight for her team's winning the championships title and achieving such an accomplishment, and lauded the efforts of her team mates, and noted that the championship had accomplished its goal by representing a gathering for sports and bringing teams from different bodies and organizations of Abu Dhabi government together, and finally she gave her thanks and appreciation to Fatima Bint Mubarak Ladies Sport Academy for its prominent role in organizing the championship.