15 September 2015
1st FBMA Physical Education Teachers Forum concluded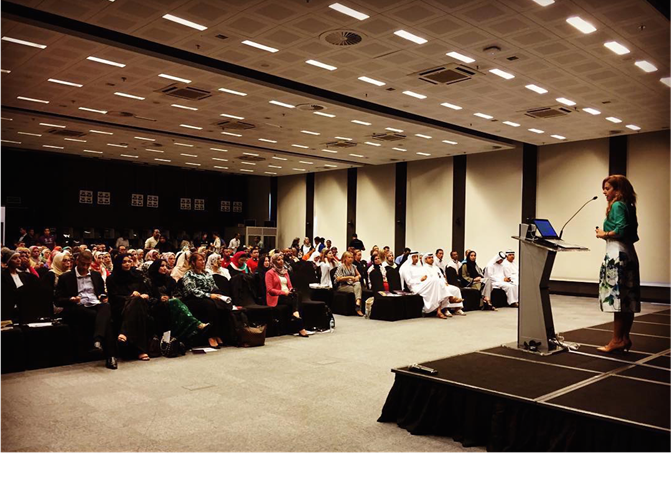 Fatima Bint Mubarak Ladies Sports Academy's First Physical Education Teachers' Forum was concluded today in Yas Marina Circuit in Abu Dhabi. Organized by the Fatima Bint Mubarak Ladies Sports Academy (FBMA), and under the patronage of Her Highness Sheikha Fatima Bint Mubarak, President of the General Women's Union, Chairwoman of the Family Development Foundation and President of the Supreme Council of Motherhood and Childhood (Mother of the Nation), and under the guidance of Her Highness Sheikha Fatima Bint Hazza Bin Zayed Al Nahyan, Chairwoman of the Fatima Bint Mubarak Ladies Sports Academy and Chairwoman of Abu Dhabi Ladies Club, the Forum attracted great participation from over 200 Physical Education (P.E.) teachers from various schools across Abu Dhabi and the other Emirates.
Mariam Rashed Al Mansoori, Seminars Coordination - FBMA, opened the Forum expressing the Academy's deepest condolences to the UAE's Leadership, Government, People and in particular to the families of the UAE soldiers martyred in Yemen, who sacrificed themselves defending their national duty.
She went on to express gratitude to Her Highness Sheikha Fatima Bint Mubarak for her generous patronage of this forum and overall exceptional leadership in promoting and developing women sports in the UAE. Al Mansoori also lauded the efforts and support of Her Highness Sheikha Fatima Bint Hazza to elevate Emirati women in all sectors, especially in the field of sports, through her wise guidance and supervision of all the FBMA programs and activities.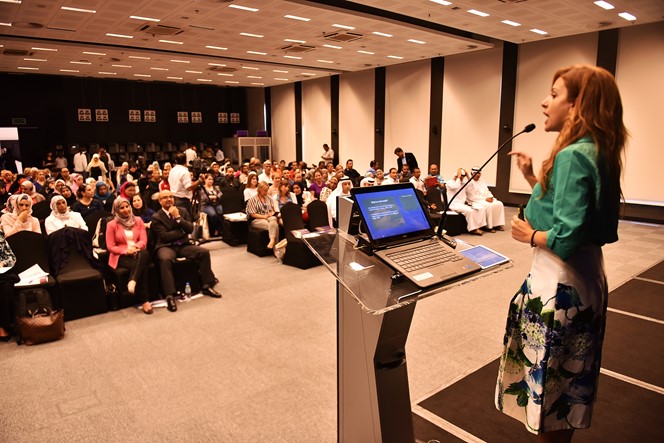 The Forum, which coincided with the beginning of the school year, gathered P.E. teachers from girls-only and mixed-gender, government and private schools in order to take stock of the P.E. system in the country and start an open dialogue between P.E. teachers and relevant authorities to allow the exchange of knowledge about the various curriculums in the Emirates. In addition, the Forum aimed to evaluate existing approaches for introducing children and youth to sports in the school setting, as well as methods employed to increase students' participation in sport activities.
The Forum's agenda included four discussion sessions, themed: Sports & Health, Sport Sociology, Pedagogy and Sport Psychology. In the first session, Dr. Osama Kamel, Health and Physical Activities Specialist at the Ministry of Education discussed physical activity as a preventive factor for obesity and chronic diseases, while he highlighted its importance for building long-term resistance from such weight-related diseases and developing children's mental abilities. Finally, he elaborated on the role of P.E. teachers in inspiring students to adopt a healthy lifestyle by increasing their physical activity levels, during and after school hours.
Dr. Dikaia Chatzieftsathiou, Reader in Olympic Studies and researcher in the field of sport sociology, presented the social elements of P.E., in specific the important duty of family and teachers in becoming role models for children and adolescents and encourage them to excel in sports. Dr. Chatzieftsathiou also spoke about the role of the school and the P.E. teacher in involving parents in the process of physical education through the implementation of programs aimed at educating parents on how they can encourage their children to develop their talent in sports.
The third session revolved around pedagogy, with Dr. Sandra Geringer of the USA Sports Academy elaborating on the importance of making physical education fun for students, as a way to ensure better learning results. She explained how makings sports fun can be a deciding factor in achieving greater participation from students in P.E. activities, while she emphasized on the significance of planning for classes in advance, so as to ensure that the needs and requirements of the whole range of students are accommodated.
The Forum concluded its agenda with a discussion on sports psychology, which discussed student-teacher relationships, and especially how student-teacher relationships can form a student's identity and impact significantly on their performance. Dr. Chatziefstathiou also discussed methods for building a safe environment that inspires students to develop their skills and capabilities away from both physical and psychological pressure, allowing them to discover and enhance their full potential.