Great commendation to Sheikha Fatima Bint Mubarak Support to Women Sports
Women Football Season Closing Ceremony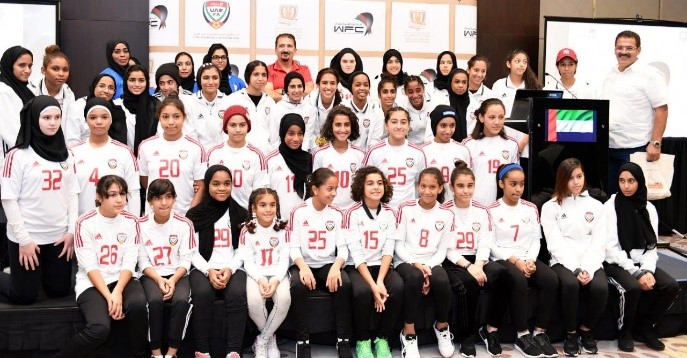 Abu Dhabi/ Saturday, September 30th, 2017: During the closing ceremony of Women Football Season held yesterday at Marriott Downtown Hotel in Abu Dhabi, Mariam Al Mansoori, Representative of Fatima Bint Mubarak Ladies Sports Academy, praised the great role and the support rendered by Her Highness for women sports and its positive impact on widening the base for women football.
In the same context, Women Football Committee Technical Director, Horiya Al Taheri, thanked UAE Football Association, Abu Dhabi Sports Council and Fatima Bint Mubarak Ladies Sports Academy for their support and attention to female players in particular, and UAE Clubs & National Teams in general. She added "we have seen the participation of UAE in Asian Qualifiers, our National Women team advanced to 83 rank, Noof Al Enzi experienced the first professional experiment and the number of female footballers has reached 2300". 
She continued "the success of UAE Women Football has had very positive impact at continental level. We are going to host WAFF U-15 Women Championship 2018 and we will take part in WAFF U-19 Women Championship"
During the ceremony, the partners of the success were honored, i.e. Abu Dhabi Sports Council, Abu Dhabi Club, Noon Sport Magazine, Al Etihad Newspaper, Al Bayan Newspaper and Al Roeya Newspaper. In addition, the honoring also included Referees Technical Director, Mohamed Abu Hdaib, referees, players, technical staff and Women National Team Coach, Sameer Al Andulisi. 
In another note, recipients of awards were Salha Al Zaabi, Best Player in Youth Team; Noof Al Enzi, Best Player in Women National Team; Al Onood Khalid, Player of the Year and Horiya Al Taheri, Sports Woman Award.